We all know that solar technology is evolving every day and scientists try to create more efficient solar cells at lower costs. All this effort is to convince people that solar energy can be as effective as any other type of electricity and much cheaper at the same time.
Using cheaper materials and the latest technology, scientists have  managed to create a new type of concentrating array, three times cheaper and four times more efficient than any other solar cells.
Researchers at the Royal Melbourne Institute of Technology have explained why this technology is so efficient by listing some key components and explaining how they work.
Using a concentrating acrylic lens and nine "troughs" in each solar module, they managed to cut the number of solar cells by 75 percent. Together with these lenses, they also used some reflective walls to concentrate the sun's rays onto a much smaller area.
Unlike other solar panels which needed to be around 14 square meters to produce 2100 Watts of power, this new Concentrated Universal Energy Solar System is 4 times smaller and produces the same amount of energy.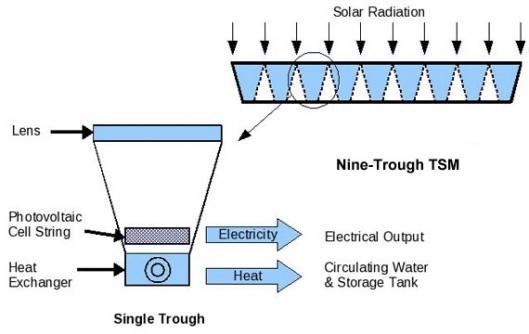 Under these solar panels there is a heat exchanger able to generate heat for a hot water system. So, I have to say that excluding the 400 watts of electrical power, the CUESS panel also produces 1700 watts of heat power.
Scientists at RMIT have also said that by producing electricity and heat this way they reached a 50% increase in efficiency. In order to promote this technology, Magna Cosma (car component manufacturers) planned to build 10 CUESS power plants in many sites around the world starting June 2010.
(Visited 178 times, 1 visits today)