Faraday Future Unveils the Amazing FF 91 at CES 2017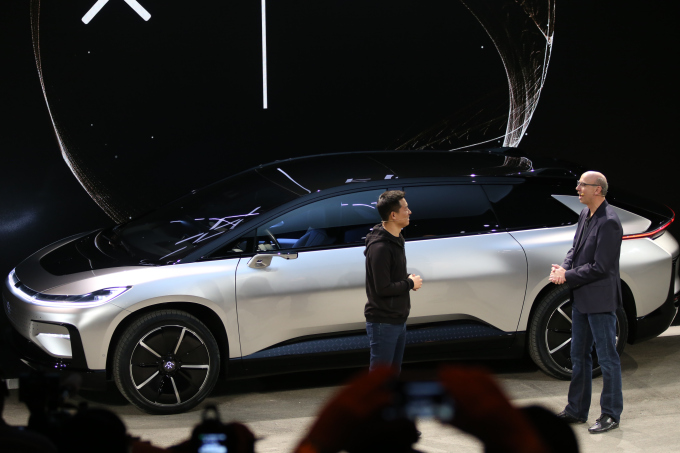 The Faraday Future, which was recently unveiled at CES in Las Vegas, has been praised as one of the most unique cars to ever be made.
Features
The slick design reflects its name and so do many of its features. It has no mirrors and instead relies upon 30 cameras and sensors placed in strategic positions for looking behind. It also has no door handles – another very intriguing feature. In a video shown during CES, the Faraday Future was able to find its own parking spot without the assistance of a driver. But during the actual demonstration they were unable to recreate that feat.
Performance
The Faraday Future also boasts some incredible stats for those interested in performance. According to Faraday, they have clocked the car at being able to hit 60 MPH in 2.39 seconds. This is marginally beating the Tesla Model S by 0.01 seconds. Most electric cars have struggled with range but that is not a worry that the FF 91 has. The company has stated that it can do an impressive range of 378 miles on a single charge. In regards to these statements, their statements have to be taken with a grain of salt as it is not uncommon for newcomers in the tech industry to over promise and under deliver.
Bonus Features
Some of the gadgets onboard the FF 91 are a WIFI hotspot, facial recognition for entry and plenty of space – 151 cubic feet. All these features add up to an impressive car and typically an impressive car means hefty price and the Faraday Future is no different. The initial deposit to be on the waiting list for this car is $5000 and has a predicted final of $150,000 to $200,000.
Future of Faraday Future
Faraday Future is riding the wave that Tesla made of fancy electric cars but it is unclear if they will remain a luxury car maker or will make a similar move to Tesla and make a more affordable car like the Tesla Model 3.
Nick Sampson, SVP of engineering at Faraday Future, said: "Tomorrow is too important for us, and for humanity. We have to flip the automotive industry on its head… independent of fossil fuels." Faraday Future wants a revolution, much in the same way that Tesla does, and wants to create an automotive industry that is both better for consumers and for the environment.
This car is definitely one of the most interesting to make it out of the concept stage. But what really matters is if it will live up to its word and make the true car of the future, knowing the company's late internal struggles.
Check these out, too
1
Comments