Magnetic Pendulum: A Free Energy Device Running for Three Years Now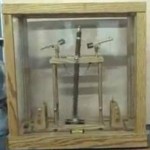 This is another free energy device using magnets taken from PESWiki.com. The inventor is George Delk, who allegedly runs this device for three years now.
It is not free energy in the sense of perpetual motion, since the magnets eventually wear out, but it depends on how much you're using their power. I don't know if it's a scam or not, but it looks interesting from the perspective of an energy generation freak like me. I like to be open-minded and think outside the box.
Watch the video below and tell us your opinion:
Check these out, too
1
Comments